Oxford is ideal for a language study trip with a high educational value. Students from all over the world come to this renowned university city by the Thames with its venerable colleges. You will feel as if you are in a Harry Potter film when you visit the legendary Christ Church college or the Bodleian Library. Oxford has had many famous scholars: find out who studied here. Try out punting and enjoy the student vibe in the cafés and parks.

Improve your English with natives
We offer you various opportunities to actively learn the language. We have developed city quizzes, treasure hunts and interactive language trainings. The treasure hunts are available to you free of charge. In addition, the stay with the host family is used as a targeted source of learning.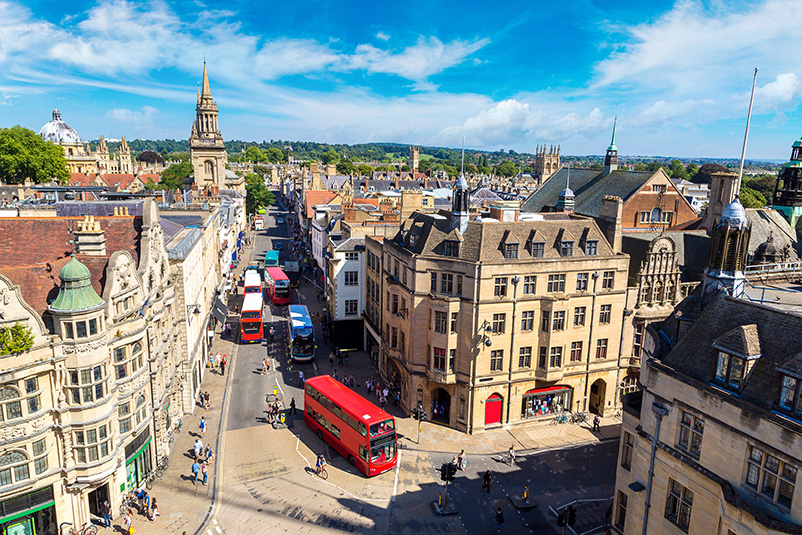 6 days / 3 nights, 2 night journeys, extension day possible
Day 1 - Departure from home (overnight trip) Evening departure towards Dunkirk or Calais. You will cross the English Channel on a ferry heading for Dover - from afar, the famous white cliffs of this historic fortified town flash and greet the travellers.
Day 2 - Stopover in Canterbury - Arrival in Oxford On the way to Oxford - possible short stopover in Canterbury. In the early evening, the host families pick up their guests at the coach.
Day 3 - Day trip to London Enjoy the diversity of the fascinating multicultural metropolis of London and the many famous attractions of the different parts of the city!
Day 4 - Day trip to Stratford-Upon-Avon - William Shakespeare Visiting William Shakespeare's hometown offers an exciting journey back in time and you get very close to Shakespeare and the everyday life of people in the 16th century.
Day 5 -Visit Oxford College - Departure - Night Drive Visit the famous colleges of the university city of Oxford. The corridors and hallways of Christ Church College were used as filming locations for Harry Potter films.

DEPARTURE: An eventful class trip comes to an end today. Evening departure to Dover and crossing to the mainland.
Day 6 - Arrival at home Arrival at home in the course of the day.
Coach
We have been working successfully for decades with selected coach companies that take you to your destination safely and in good spirits.
Ferry
Crossing from Calais to Dover in a modern ferry with beautiful views of the white cliffs of Dover.