Münster is known nationwide as a cycling city and is appreciated by all for its high standard of living. Transport planning is not limited exclusively to the bicycle. All types of transport are taken into account and coordinated with each other. This integrative approach is the guiding principle of sustainable urban mobility planning.
The Münstercard grants free admission to sights and museums and bicycle rental. We will be happy to advise you.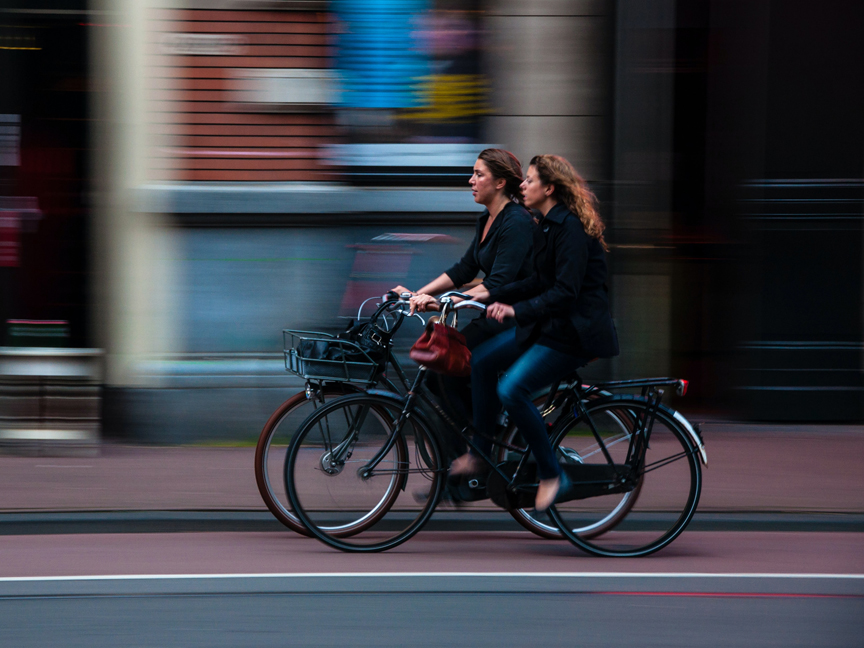 Trip for environmental protection & sustainability
Transport planning for the future
Lessons by bike. Münster has built for the future. 71% of all journeys are made by residents by bicycle, bus and train or on foot. Do you want to find out how did the city manage that?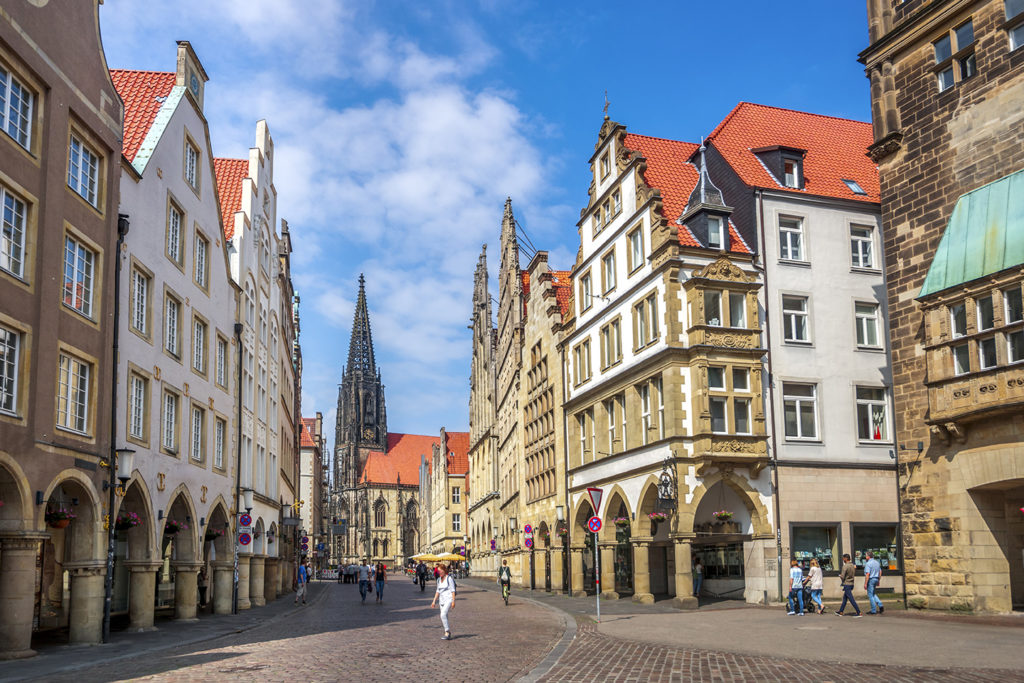 4 days / 3 nights, extension day possible
Day 1 - Departure and Arrival - City Stroll Arrival in Münster in the course of the day. After moving into your accommodation, first explorations.

EXPLORE THE CITY: Everywhere cafés invite you to enjoy a pleasant stay. In the traditional cow quarter you can spend a cosy evening.

CITY QUIZ: Münster is the most bicycle-friendly city in Germany. Many cycle routes lead through the surrounding Münsterland. On request, a SENLAC city quiz will gladly accompany your discoveries. Why is the city of Münster called Münster? Do you know?
Day 2 - City tour and museums - Münster Castle - Canoe trip on the Werse CITY TOUR AND MUSEUMS: After breakfast, we will go on foot and/or by bike in search of traces in the old town to the famous Prinzipalmarkt: here, in the arcades, people traditionally stroll, shop and show off. Already in the Middle Ages and in Hanseatic times, it was the heart of the city, where merchants displayed power and wealth with elaborately designed gabled houses, counting houses and arcades. The 14th-century town hall is a historical must-see, as it was here in the Peace Hall that the Peace of Westphalia was declared in 1648. Guided tours take place by appointment. True medieval masterpieces and landmarks of Münster are St Paul's Cathedral with its astronomical clock, whose carillon chimes daily at 12 noon. On Wednesdays and Saturdays it's market day on Domplatz with typical Westphalian delicacies - and the modern LWL Museum displays art from the Middle Ages to the modern age.

MÜNSTER CASTLE: The nearby baroque Münster Castle is home to the university, whose committed climate protection project "Ecosystem Tree" was built in the castle garden as a tree experience trail. Visitors are sensitised here to the topics of environmental protection, biodiversity and sustainability. The Botanical Garden has been a relaxing green oasis in the city since 1803 and is also part of the palace grounds. Admission is free of charge.

CANOEING TOUR ON THE WERSE: In the afternoon, we set off on a leisurely canoe tour on the Werse or, alternatively, on an 8-kilometre bicycle tour in Münster's village district of Wolbeck, which welcomes us with the charm of the Münsterland and beautifully restored rural buildings. The old Drostenhof manor house is home to the West Prussian State Museum.
Day 3 - Aasee - Solar Ship Solaaris - Picasso Museum - City Harbour AASEE: With leisure activities such as pedal boating, cafés, restaurants and beautiful walking and cycling paths, the Aasee attracts visitors.

SOLAR SHIP SOLAARIS: On the solar-powered ship Solaaris you can sail in summer to the species-rich all-weather zoo and the Hippomax horse museum, head for the natural history museum with its planetarium or cross over to the Mühlenhof open-air museum, which shows past worlds of life and work in Münsterland.

PICASSO MUSEUM: An entire museum is dedicated to Pablo Picasso in Münster - unique in Germany. The exhibition includes many details on the life and work of the world-famous artist and his creative companions. A must for art lovers.

CITY HARBOUR: The evening could end at the Kreativkai of the city harbour. Artists open their studios in the warehouse buildings. Cafés, theatres, trendy clubs invite you in and summer open-air spectacles delight.
Day 4 - Arrival at home town DEPARTURE AND ARRIVAL: Today your school trip to the cycle-friendly city of Münster ends. Arrival at your home town in the course of the day.
Old Town Münster Cathedral, Prinzipalmarkt, town hall and gabled houses in Gothic style more
Prinzipalmarkt historic market with arcades, gabled houses and town hall, shopping paradise more
Historic Town Hall Münster In 1648 the Peace of Westphalia was declared in the magnificent Peace Hall more
St.-Paul's Cathedral Cathedral with medieval astronomical clock, treasury more
St. Lamberti Church, Münster market and city church, baptistery and tower more
Pablo Picasso Art Museum Germany's only Picasso museum
LWL Museum of Natural History with Planetarium Dinosaurs and the World of Stars more
Crime Story City Tour Münster Original Film Locations of "Wilsberg" and "Tatort"
Hülshoff Castle 15th century moated castle, birthplace of the poet Annette von Droste-Hülshof more
Rüschhaus House imposing baroque property, home of Annette von Droste-Hülshoff more
Vischering Castle one of the most beautiful castles in Germany, knights' games and fortifications more
Coach
We have been working successfully for decades with selected bus companies that will take you to your destination safely and in good spirits.
Train
Depending on where the journey starts from, we will bring you either by train or by coach to Münster.