Strasbourg is the largest city in Alsace and a historic Franco-German link on the Rhine. It is considered an international modern European capital as many EU institutions are based here. The world-famous Gothic cathedral offers a breathtaking view of the beautiful old town, alleyways that are centuries old, typical Alsatian half-timbered houses, the picturesque quarter of La Petite France... The EU Parliament, Palais Rohan, History Museum. Haut-Koenigsbourg Castle and Colmar in its natural surroundings are all equally impressive sightseeing destinations on this class trip.
5 days / day trips / adaptations as desired
Day 1 - Departure from home - Strasbourg After arriving and moving into your accommodation, stroll through the 2000-year-old city. The astronomical clock of Strasbourg Cathedral shows the orbits of individual planets... Taste tarte flambée in a cosy brasserie or wine bar?
2. Tag - Stadtrundgang oder Bootsfahrt – Europa-Parlament – Museen City tour or boat trip with German-speaking guide. Guided tours of the European Parliament followed by a political discussion with the students, please book well in advance. Followed by interactive city history from the Middle Ages to the present day at the History Museum. In the "Musée du Chocolat", an enticing exhibition on the production of chocolate awaits you with sweet secrets and tastings.
Day 3 - Excursion - Haut-Koenigsbourg Castle - Colmar The 12th century Haut-Koenigsbourg castle rises from the green hills of the Vosges. It presents historical art and cannons. Unique view of Alsace - a tourist magnet!

The cultural city of Colmar holds works by famous late medieval masters and the world-famous Isenheim Altarpiece is in the Musée Unterlinden. Splendid old town, half-timbered houses and Renaissance buildings.
Day 4 - Excursion - Struthof Memorial Site Guided tour and remembrance at the former Struthof concentration camp near Natzwiller in the Vosges Mountains. Please book in advance.
Day 5 - Arrival at home After breakfast, the journey home begins. Arrival at home in the course of the day.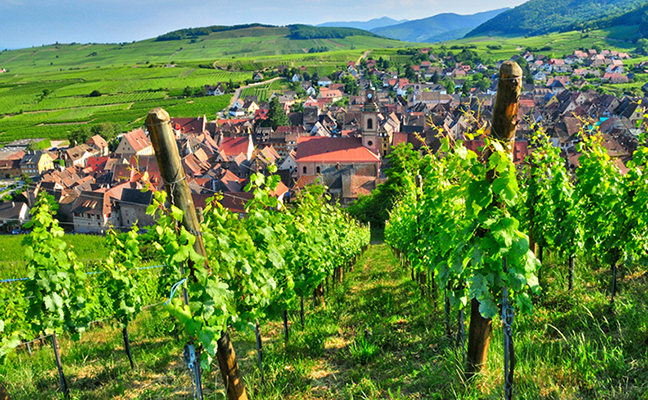 Riquewihr - a village with sound
Along the Alsace Wine Route you will find charming villages surrounded by vineyards and fields, such as Kaysersberg and Eguisheim. In the village of Riquewihr, music plays out of loudspeakers all day - a unique experience ripe for exploration.
Coach
We organise your arrival and departure in a fully equipped coach with our reliable contractual partners.
Train
Depending on where your journey starts, we will bring you to Strasbourg either by train or coach.